Last 12 months, a worldwide settlement was reached to scale back deforestation and methane emissions. Does this imply an finish, lastly, to tree-chomping, flatulence-fixated, celebrity-authored kids's books?
D.F., East Kurrajong, NSW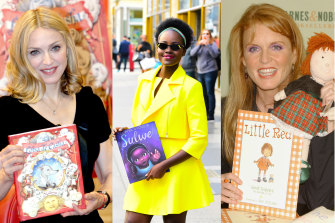 A: As a non-celebrity writer of youngsters's books, I too am appalled by this glut of celebrity-penned, fart-themed bestselling children' books. Mostly as a result of they're deforesting all of the planet's lush, verdant forests that my books ought to be deforesting, and polluting our cultural ambiance with vulgar, unearned fart jokes that I ought to be unearning vulgarly. We non-celeb children'-book authors simply can't compete; we don't have the general public profile or media savvy that celebrities have. I as soon as did a bookstore look and solely two children confirmed up, each my very own. And neither purchased my guide regardless that I really gave them the cash.
Loading
So you're proper: we should act IMMEDIATELY to ban celeb farty children' books. It's the one approach to save this planet, save our youngsters and save the careers of bitter, struggling, non-celeb authors like me. Instead, I suggest that bookstores inventory nothing however instructional, eco-conscious children' books, just like the one I've simply written, impressed by your query. It's known as This Book Was Once a Beautiful Tree and it goes like this: "This book was once a beautiful tree / It lived in the forest and grew happily / Standing so high with its daddy and mummy / Then a man with an axe chopped it right in the tummy / Whacked it and thwacked it and lopped off its head / Hit it and split it until it was dead / Drove it away on a truck, and then, gulp! / Mashed up its body into a flat pulp / Tattooed its skin with black ink, and look! / Wow, that dead tree's the book that you're holding right now." Now, that's a bestseller.
To learn extra from Sunday Life journal, click on right here.
Make probably the most of your well being, relationships, health and vitamin with our Live Well e-newsletter. Get it in your inbox each Monday.